My new favorite album: Insomnium – Shadows Of The Dying Sun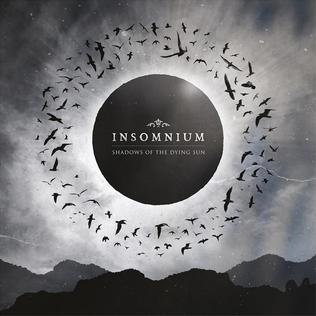 Do you know INSOMNIUM ?
Well you really should! What a great band! Insomnium is a Finnish melodic death metal band from Joensuu, Finland. The nature and lyrical themes to their music is one of darkness, sorrow, loss, pain, and of nature.
Couple of weeks ago they released their 6th studio album Shadows Of The Dying Sun! I have to admit I jumped on the train quite late. Only when I read that they became the Album Of The Month in Germany's Metal Hammer they caught my attention. They got 6/7 points. And then blew me away!
It's not a secret that I do love lots of Scandinavian bands of all kinds: Black Metal, Death Metal, Melodic Death Metal, Doom, Folk, Gothic, Symphonic, Progressive, Pagan… Who the f*** cares as long as the music is great! Since decades I love to discover new bands from all kinds of metal (OK, not only metal, but Hell yes, you guys know my musical history…!!). I missed Insomnium! Now I am on it! Great band, best album these days to me!!
Tracklist:
Shadows Of The Dying Sun
The Primeval Dark
While We Sleep
Revelation
Black Heart Rebellion
Lose To Night
Collapsing Words
The River
Ephemeral
The Promethean Song
Shadows Of The Dying Sun
The title track # 10 "Shadows Of The Dying Sun" is my absolute favorite!! 10/10!! Gooseflesh guarantee 100%! Play it LOUD!
Links:
The official video to the album's single "While We Sleep":
Oh, and just a word, why the Vimeo video and not YouTube? YouTube is great! But thanks to our "friends" from the German GEMA pretty much no official video is available in Germany. With all due respect to every artist who and their rights I unconditionally support (!!): the GEMA  SUCKS!!!! They think they support the artists… In fact they only block business! Screw them! They even make Kindergardens pay for playing nursery rhymes! They block all new videos of all our favorite bands that can be watched all over the world except Germany. Do they help the artists? LOL! Of course not! On the full contrary! To tell the truth: GEMA = pimple on my ass!! Maybe I should post another article on this sad topic…
https://www.ceho.de/wp-content/uploads/2014/07/Shadows_of_the_Dying_Sun.jpg
316
316
ceho
https://www.ceho.de/wp-content/uploads/2015/10/logowhite-300x89.png
ceho
2014-07-17 23:29:33
2014-07-17 23:35:45
My new favorite album: Insomnium – Shadows Of The Dying Sun