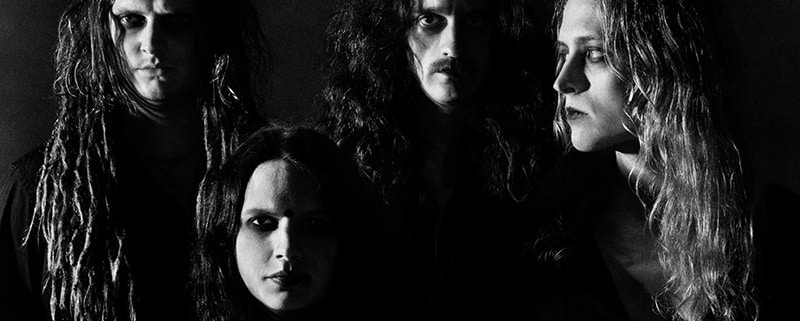 Sehr geil. Darauf habe ich ja immer gewartet: ein The Cure Cover einer Death-/Black-Metal Band
(Tribulation werden irgendwie in beide Kategorien gepackt…).
Grundsätzlich muss ich sagen dass ich überhaupt kein Freund von Cover-Versionen bin. Schon gar nicht von meiner Alltime-Lieblingsband The Cure. Was ich da an Zeugs über die letzten Jahrzehnte gehört habe war zu 95% grottenschlecht bis totaler Schrott. Besonders wenn die Coverbands dann noch versuchen den Gesang von Robert Smith nachzuahmen… Es gab auch ein paar coole Coverversionen, klar. Von Blink 182 zum Beispiel (man höre und staune). Oder Placebo. Oder nicologic. Wenn ich jetzt lange genug drüber nachdenken würde würden mir sicher noch mehr einfallen. Mach ich jetzt aber nicht, denn darum geht es hier und heute ja gar nicht ;-) .
Tribulation kannte ich bisher nicht, um ehrlich zu sein. Ich habe auch bisher nur die Review des neuesten Album "The Children Of The Night" gelesen, mir die Pladde aber selber noch nicht angehört. Mache ich aber noch.
One Hundred Years von The Cure ist bekanntermaßen einer der "düstersten" Songs der Band. Und wenn einer für ein Metalcover prädestiniert ist dann der. Diese Version von Tribulation finde ich ganz gelungen. Allerdings ist der Sound ziemlich flach. Ich bin kein Musiker, aber irgendwie gefällt mir die Einstellung der Drums auch nicht. Das mag aber auch am YouTube Video liegen. Ich schaue mal ob das Cover auf dem Album ist oder ich sonst woher eine Studioversion bekomme. Wie gesagt, bisher kannte ich Tribulation nicht, oder nur vom Namen her.
Hier ist das Cover von YouTube. Das Video ist auch recht cool. Ist aber nichts offizielles wenn ich das richtig sehe. In der Videobeschreibung steht auch
Video taken from Max Anderssons musicvideo of The Cures original songversion. Made in 1984.
Keine Ahnung was der damit meint. Ich behaupte mal alle Cure videos in- und auswendig zu kennen. Vielleicht habe ich auch nur etwas vergessen über die Jahre… Aber egal!
Update in 2018: das ursprüngliche Video gibt es nicht mehr, dieses hier ist vom Kanal von jody howell.
https://www.ceho.de/wp-content/uploads/2015/05/tribulation.jpg
533
800
ceho
https://www.ceho.de/wp-content/uploads/2015/10/logowhite-300x89.png
ceho
2015-05-02 15:42:57
2018-06-16 18:40:52
Tribulation cover The Cure